Stir Up Shakespeare!
Activities for young people at home, using easy-to-find materials.
Minimal adult input for some activities.
Satisfying projects for those looking for a challenge.
Relevant to the plays of William Shakespeare.
Contributions from theatre professionals.
Discover the roots of real tasks in live theatre.

Go, Philostrate,
Stir up the Athenian youth to merriments;
Awake the pert and nimble spirit of mirth;
Gallery
We would love to see what you have created. Visit our Gallery to see your completed projects, and tweet us your own to @brownseatheatre.
Over To You
Let us know if you have any comments, ideas or suggestionsusing our contact form
Stir up Shakespeare Activities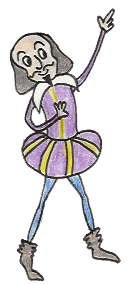 Featured Activities
New activities added regularly.